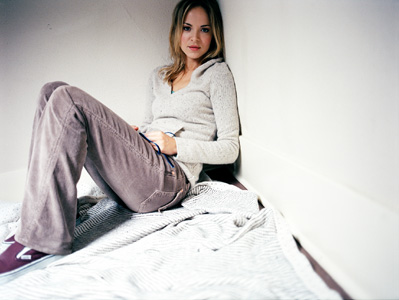 It was a few years ago when I first heard the voice of one
Gemma Hayes
, the Tipperary-born & raised singer/songwriter who has since become one of my very favourite voices. At the time, Gemma was touring with the Counting Crows to support the US release of her first LP,
Night On My Side
, an impressive collection of songs full of love, loss, and an unmistakable air of calm which seems inherent to Hayes' airy, soothing voice.
For all its pop sensibilities,
Night On My Side
remained an organic freshman effort, with heavier tracks echoing Hayes' early musical influences (My Bloody Valentine topping that list) as well as her quieter side. It wasn't until 2006's
The Road's Don't Love You
was released that her commercial appeal began to be realized, with one track, "Two Step", even going on to be featured on ABC's Grey's Anatomy. The songs are noticeably more upbeat than
NOMS
, in form if not in function, though Hayes' trademark lyrical styles and gorgeous vocals don't get lost by the wayside.
Cut to May of 2008, in which Gemma finally releases a long-awaited third album. Entitled
The Hollow of Morning
, the album features a few of the tracks previewed as rough version over the past few months on
her MySpace page
, including the the lovely and intense "Home", and the album's first single, "Out Of Our Hands". The song is gentle and yet slightly gritty, a song lamenting (or perhaps just accepting, finally) the unpredictability of even the best relationships.
The Hollow of Morning
is a beautiful album, and has an organic feel that those who have been fans of Gemma's from the beginning with recognise and love. I know I do.
In a world in which musical favourites come and go, it's hard to say why Gemma has stayed with me for as long as she has. While she's got a wonderful knack for melody and an incredibly warm, accessible voice, there's still something more. I can't put my finger on what it is, but I'm sure if you gave her a listen, you'd feel it too.
The Hollow of Morning
was released in the UK on 5 May 2008 and is available online from
HMV
,
Amazon UK
, and
Play
. No US release date has been set currently.
Gemma will be playing the Filmore @ Irving Plaza here in NYC along with fellow Irish band BellX1 on 4 June 2008. Tickets can be purchased from
the Irving Plaza website
.